Read article on Chhattisgarh Election Date 2023, Vidhan Sabha Election Date, and Schedule.
The Chhattisgarh legislative assembly election will be conducted on or before 30 November 2023. Kindly scroll and read the article to learn more about the Chattisgarh Election Date.
Chhattisgarh Election Date 2023
The legislative assembly Chhattisgarh Election will be held on or before 30 November 2023 and will end on 3 January 2023. This is because the previous assembly elections were held in November 2018. After that election, the Indian National Congress party won the state government election and was given the position of Bhupesh Baghel as Chief minister of the state.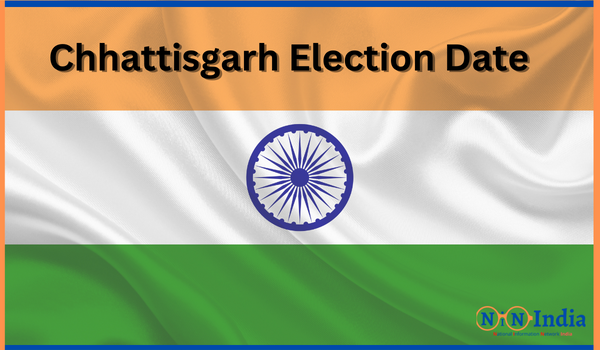 It has been in the news that the BJP party have started implementing their strategies to rule or win the state. The top leaders of the BJP Party of Chhattisgarh are involved in the meeting, which has been held in Delhi for the last two days. Now, let us discuss more on Chhattisgarh Election Date 2023.
Chhattisgarh Election Date Mission 2023
Chhattisgarh Assembly elections will be performed in 36 districts of Chhattisgarh. There is a high competition spreading all over the state's districts by the two major political parties. Therefore, both parties have started implementing their strategies to win an election. Congress party leaders have told reporters that BJP has no leader who can give tough competition to CM Bhupesh Baghel.
If we look at it, the congress party has a total number of social media followers which is equal to 4,51,000 followers. Still, if we see the figures for the social media of the BJP party, it has a vast number of followers, similar to 9,596,000 followers. So, if both parties want to deliver messages through social media, then the BJP party message will reach many groups of residents of Chhattisgarh. As you all know that social media is the fastest growing digital media to deliver the message parties have tried to impress Central Government Assembly Election 2023.
We can guess that there will be a tight competition between these two parties. Because say for a minute, if the BJP party has a large number of followers, then the Congress party have also started the "BHARAT JODO YATRA" which the public has given a massive response to this Yatra.
Majority Winning Criteria 2023

If a party wants to win a Legislative Assembly Election in Chhattisgarh, it must capture at least 46 out of 90 seats.
Considering a past scenario, Indian National Congress won 68 seats in the last election, BJP won only 15 seats, and another party won five seats. If BJP wants to make a joint Government by creating an alignment, it is also impossible because the winning percentage is so high for Indian National Congress Party.
Why is BJP Focusing on Chhattisgarh Election 2023?
In the assembly elections BJP, the BJP party is focusing is because there may be a probability that they can lose in any of these two states – Rajasthan or Madhya Pradesh.
So, that's why BJP is focusing on the Chhattisgarh assembly elections.
There may be a Vice Versa scenario in which the BJP can win in all these three states. So kindly think before voting, one vote may change the result of any of the parties.
Why is Congress Focusing on Chhattisgarh Election 2023?
Congress is focusing on Chhattisgarh legislative Assembly Election 2023 because they know that they have a strong zone in this particular state if we compare it with the BJP party. The leader of the Congress in Chhattisgarh has an excellent hold on his condition since he has held the position of Chief Minister for many years.
Chhattisgarh Election Date Schedule 2023
The Schedule for the Chhattisgarh election dates has not yet been declared. So, Keep in touch with the official website regarding updates.
| | |
| --- | --- |
|   EVENTS  | DATE OF EVENTS  |
| Date of Notification | to be announced (TBD) |
| Nomination Filing Last Date | to be notified (TBD) |
| Scrutiny of Nomination | to be notified (TBD) |
| Last Date for Withdrawal of Nomination | to be notified (TBD) |
| Date of Poll | to be notified (TBD) |
| Date of Counting of Votes | to be notified (TBD) |
The Voter List Qualification Date of the Chhattisgarh Election 2023 is from 9 November to 5 December 2023.
We believe you have received the information on Chattisgarh Election Date 2023 from this article.
Thank You For Visiting NINIndia. Visit more for fresh content on our website for Admissions, Sports, etc.